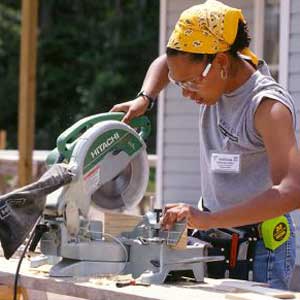 In 1991 in Charlotte, North Carolina, a group of women gathered together on a self-empowering project to construct the first women-built Habitat for Humanity house. Over the next few years, thousands of all-female teams built houses across the nation, with the likes of Hillary Clinton and Kentucky and Oklahoma's first ladies, Libby Jones and Cathy Keating, pitching in. "Women Build started as an effort to get more women involved. A few years back women were few and far between on Habitat construction sites," says the Director of Special Projects for Habitat for Humanity, Donald Bonin.
Habitat's Women Build program has constructed nearly 1,000 homes to date for families and communities in need in Africa, Asia, Latin America, and the United States.
Most recently, women volunteers have been using their tools on Halsey and Marcus Garvey Boulevards in Bedford-Stuyvesant, Brooklyn. The homes, built by women as young as 16 years old for nine Brooklyn families, are unique in that they are "green buildings." They are among the first homes in New York City to be built with energy-efficient Insulated concrete forms (ICFs). Future Habitat homeowners will save up to 30% on their energy bills.
Fran Sullivan, 67, is a Women Build volunteer working at the Bed-Stuy site, "As a retiree," Sullivan explains, "I have the time, commitment and strength to make a contribution to a project that will provide a real home to someone. It doesn't get more concrete than that." Other volunteers have a more personal connection to the build. "I was told that my life was over, that I would never amount to anything," recalls Veronica Santiago. When the former teen mother overcame obstacles to finish school, she promised herself that her next accomplishment would be to own a house that she could call home. "It took 12 years to save for a down payment, but I finally realized my dream in 2004," says Santiago. "I know how hard it was to reach that goal, and I want to help other mothers do the same."
In addition to the Brooklyn location, Women Build projects are currently in progress in Killen, Texas, Las Vegas, Nevada, and Baltimore, Maryland. Housing is slated to be completed at these sites between late summer 2007 and early winter 2008.
How does an aspiring volunteer Women Builder get involved? Easily: No previous construction skills are required to participate. In fact, the majority of volunteers come to projects without prior knowledge of construction. But training is available for potential volunteers who want to get a jump-start on their building skills. Lowe's, the underwriter of Women Build, hosts how-to clinics in local stores across the country. These clinics are open to the public at no cost, and supplies are provided. Topics range from installing roofing shingles to finishing interiors with paint and trim.
Time commitment on a Women Build project is flexible; volunteers work at sites when they are available.
For more information or to find out how you can get involved, contact Habitat for Humanity's
Women Build
directly.