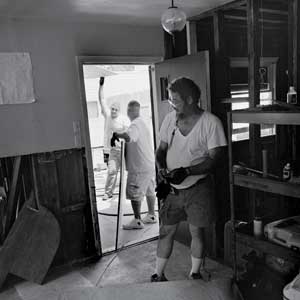 Nothing but Challenges

Johnny Moore is on the roof of his flood—wrecked home in New Orleans. But he's not waiting to be rescued.

The three—and—a—half feet of water that swamped the modest brick—faced ranch he shared with his wife, Venus, has long since receded. Now, two years after Hurricane Katrina struck and the levees failed, Johnny is saving himself by rebuilding his house the only way he can: with his own hands. "I'm the contractor," says the 62—year—old, who currently does maintenance work at an area high school. "Ain't nobody going to rebuild this house but me."

Several of Johnny's neighbors in the city's Gentilly section are doing the same thing, as are countless others who have decided to stop waiting on aid and start the reconstruction on their own.

Johnny returned home three weeks after the hurricane. Maybe it was longer. He's not quite sure. "It was a period that I love to forget," he says. A jumble of debris was blocking the front door from the inside, so he had to force his way in. The stench of rotting food in the freezer was sickening. The wood parquet floors had buckled, mold had bloomed on the drywall, and anything that wasn't made of solid wood or metal had pretty much disintegrated. "Water was everywhere, in every pot and pan. You were just hoping that your boots wouldn't leak, and figuring out what to get rid of next."

The mountain of trash Johnny piled in his front lawn was more than six feet high and 15 feet across. All he was able to salvage was an antique mahogany bedstead and some hunting and fishing trophies, as well as family photos that had hung high on a wall. The ceiling fan in the living room remains, but its blades droop like the petals of a wilted daisy. "Everyone tells me to take that fan down, but I say no. That's my reminder of how long the water was in here."