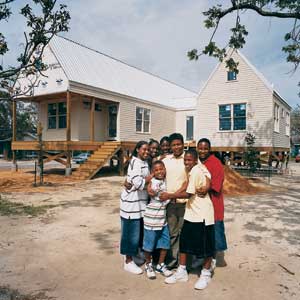 It's tough enough to build disaster-relief housing, let alone housing that anyone would want to live in when the crisis has passed. But try telling that to Karen Parker, who endured eight days in a Salvation Army tent and nearly two years in FEMA trailers after her home was destroyed by Hurricane Katrina. Rather than hightail it to higher ground or settle for a life in a prefab with all the charm of a cereal box, Parker wanted a new house, in her community, close to friends and family. Architecture for Humanity's East Biloxi Model Home program gave her all that and more: an architect-designed house of her own, built to new and stricter flood-zone construction standards and just a quarter-mile from her old neighborhood. Architecture for Humanity's angle isn't just emergency shelter but quality design for the masses. "It drives me crazy when people have to take affordable housing that's also poorly constructed, as if this community doesn't need real estate that can appreciate," says Kate Stohr, who cofounded the group in 1999. Parker's is one of seven demonstration houses to go up in the Biloxi area. Qualifying wasn't easy (while displaced, she had to hire a lawyer to chase down her grandfather's deed to the property, a tall order in a community where most records had been destroyed), but all you have to do is look at the smiles on the faces of Parker and her six children as they get ready to move into their new house to believe in the healing power of good design.
The Parkers' house, designed by architect Brett Zamore, is one option that owners in the Biloxi Model Homes program can choose to build. But at a house fair last summer, participants interviewed a dozen teams invited by Architecture for Humanity, eventually approving seven designs that met new building codes and elevation requirements for the area. Each house costs $110,000 in donated funds to construct. As soon as more funding is raised, 40 additional homes are planned. About 500 families are on the waiting list; to qualify for the program's financial assistance, they must be low- to moderate-income residents of East Biloxi whose homes were destroyed by Katrina. To make a donation or to apply, visit
Architecture for Humanity
.