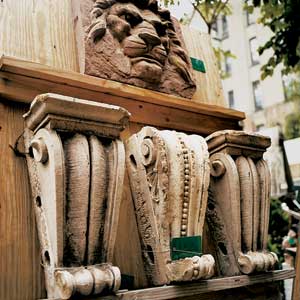 In Rome, they let you touch them. The cleaved columns, fractured friezes, and other rocklike ruins of ancient civilizations, I'm talking about. In fact, when visiting the Roman Forum with my husband a few summers ago, I even plopped myself down on what remained of a giant marble archway to rest my sore tourist feet. If I'd done that at the Metropolitan Museum of Art in my hometown of New York City, they would have carted me off to the gallows.

Lucky for me, though, there are plenty of fascinating fragments—even if they're of somewhat more recent vintage—within arm's reach at salvage yards in almost every American city. So when I want to commune with pieces of our nation's architectural past, and those of my locale in particular, I head for Demolition Depot. The back lot of this Harlem warehouse is filled with the most amazing stuff, mostly from the late 1800s and early 1900s when building styles were more ornate, including a colorful glazed terra-cotta block from the Audubon Ballroom and Theater (top right). In 1927, that's where residents of Washington Heights—the neighborhood where I live now—likely saw their first talkie: The Jazz Singer, with Al Jolson. It's also where black nationalist leader Malcolm X was gunned down in 1965, while addressing his followers from the stage.

In the 1990s, all but the front facade of the Audubon was razed, like so many other famous (the original Neoclassical-style Pennsylvania Station, for instance) and not-so-famous (Victorian-era tenements in Hell's Kitchen) buildings in New York City. Thankfully, when places like these come down, there are sometimes people with the sense to spare exterior stone or terra-cotta corbels, pilasters, and keystones so they can be reused.