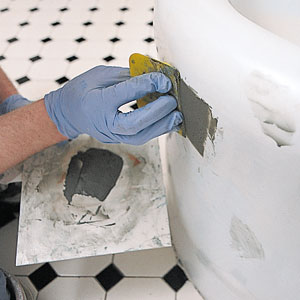 To prepare for refinishing, Ayers first carves away the caulk between the tub and the walls and floor with a putty knife, then removes the drain cover and masks off the faucets. The edge of the coating will be hidden behind the refitted fixtures and a new bead of caulk. Next he cleans the tub to remove the impurities that can hinder adhesion of the new finish: He scrapes off soap scum with a razor blade, then wipes on an alkaline emulsifier commonly used to strip wax off floors. He follows with an acid-based citric cleanser that neutralizes the emulsifier, and after rinsing and drying the tub, rubs it clean with denatured alcohol.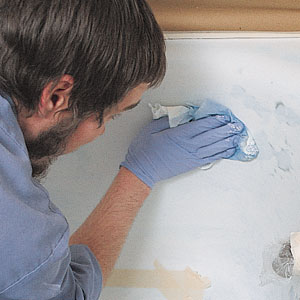 Ayers, a former auto-body repairman, trowels fiberglass putty into deep chips and scratches, just as he would on a damaged car door. (Had the tub been severely etched by cleanings with bleach, he would have had to putty the entire inner surface.) After the fiberglass hardens, he sands it with a coarse 36-grit paper to knock down high spots and an 80-grit paper to feather it out. He fills any pockmarks in the dried fiberglass with a polyester glazing putty, waits for it to set, then sands it in the same manner.

After wiping with a tack cloth, he rags on a bonding agent that enables the acrylic urethane enamel to adhere to the porcelain's glasslike surface. Many refinishers first roughen up the tub's surface by brushing on a solution of hydrofluoric acid before using a bonding agent. Critics of acid etching point out that the acid must be properly neutralized before being washed down the drain or it can damage pipes, as well as the environment. Miracle Method's proprietary bonding agent eliminates the acid-etching step.