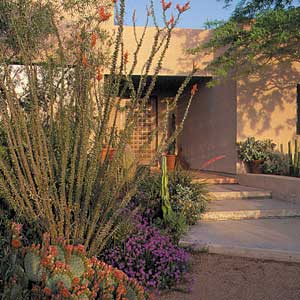 A great front yard may not change your life, but it can lift your spirits each time you come home. Simple things, like a pleasant walk to the front door and a bit of relief from street traffic, can make a big difference in how you think about your home.

Most homeowners don't start with an ideal yard. Far from it. Some inherit a virtually blank slate, and others get an outdated yard with a standard-issue narrow walkway, a ring of shrubs around the foundation, and maybe a stingy concrete slab at the door.

Making changes to these types of yards may seem daunting, but help is here. We found three homeowners who faced different problems but came up with equally successful projects.

Lush, Low-Water-Use Landscape
Starting from scratch, John and Jan Trimble created this flourishing landscape, which earned them the "Best New Xeriscape Award" (for low water use) from the city of Austin, Texas.

Challenge: "We wanted a xeriscape garden but with plenty of color and a profusion of greenery, not a desert look," John says. "And, wanting more time to travel, we decided on a low-maintenance garden," Jan adds. The chief challenge was the concretelike soil, known as caliche. Intense summer heat and deer were other problems they had to contend with.

Solution: First, the couple developed an overall plan, which called for professional help designing and installing the mortared limestone paths and sprinkler system. They decided to leave boulders to become features of the new landscape. The couple then turned to improving the soil. They mixed truckloads of compost and other organic amendments into the dense soil. They mounded the improved soil in raised planting beds to provide extra depth for plant roots. Twice a year, the Trimbles spread shredded bark mulch 3 inches deep over the soil surface, which helps the soil remain cool and retains moisture.

Wise plant choices are central to the success of any garden. Jan, then a beginning gardener, learned about drought-resistant plants from a local garden club. And she experimented. "I didn't have an exact planting plan. Instead I planted on an ad-hoc basis," she says. Among her many successes are shrubby perennials, including lantana, autumn sage (Salvia greggii), and Mexican bush sage (Salvia leucantha). They provide rich color, and the deer that regularly browse their yard leave them alone. The decision to limit the amount of turf and plant native, drought-resistant buffalo grass also saves water and reduces maintenance. This easy-care approach ensures that time spent in the yard is as pleasurable as possible.