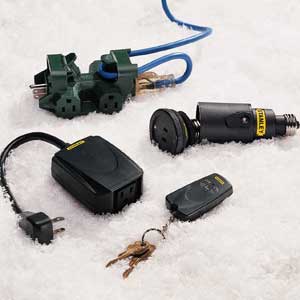 Some of the less joyful holiday traditions, like hanging lights with frozen fingers, searching for the dead bulb on a string of lights and the postholiday pine needle pickup, might seem as inevitable as Dick Clark on New Year's Eve, but they don't have to be. As proof, we've assembled a number of products and tips that will make decorating easier and safer.
Power Providers
There are better—and safer—ways to power your exterior decorations than running extension cords out windows that you open a crack.
•If you're willing to temporarily trade in an exterior floodlight, the SocketMax Duo (Stanley) screws into the receptacle to provide a plug with a built-in photosensor to turn lights on at dusk.
•The Lamar Stake Light
(Frontgate)
is a portable power strip with a protective cover and a built-in timer. When running extension cords, make sure that the cord is approved for exterior use.
•The Coldweather Cord
(Woods)
can stand up to temperatures as low as -58 degrees F. Another plus: The cord has a built-in light to let you know if it's getting power.
•Avoid stringing too many lights end to end with the multireceptacle Powerlink
(Woods)
.
•When it's time to turn everything off for the night, reach for the Remote Control Light Switch (Stanley) so you don't have to go outside.