Cure for Boxy Homes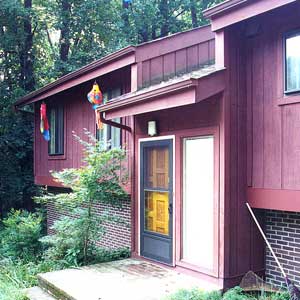 Two changes are at the root of this radical transformation, which was orchestrated by Annapolis, Maryland, architect D. Wayne Speight. "It is a dramatic example of the tremendous potential that exists in older, out-of-date housing," says Speight. Swapping the original flat roof of this split-level house for a gabled one was the first step in achieving the relaxed, traditional look the homeowners wanted.

Next, Speight added a deep, columned porch that stands two stories tall across most of the façade, and turned its peaked profile perpendicular to the main house, parallel to the street. Large framed openings in the 2x2 lattice screen preserve the view from the second-floor windows.

Inappropriate to begin with, the original shutters were removed and the single-pane double-hung windows were replaced in favor of muntined models. Rather than using color to add a final layer of interest to the front of the house, Speight used a textured mix of siding—clapboard on the ground floor, shingles above—a big improvement over the 1960s-era stained T1-11 siding.