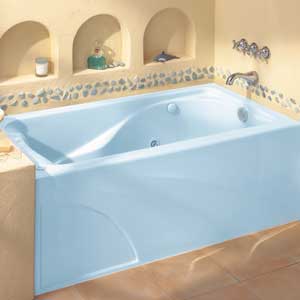 Remodeling Small Baths

Although it may seem that the trend in bathrooms is toward bigger, many folks face the challenge of remodeling small, even tiny, spaces. If this is your situation and you don't have the option of removing a closet or breaking down a wall to add space, finding a toilet, sink, or tub that is slightly smaller than the average could mean the difference between success or failure.

Here's the lowdown on what's out there and what rules to follow to get the most out of small bath fixtures. When hunting around for petite fixtures, you'll find a wider selection at specialty showrooms, with lots of custom possibilities. However, basic items in go-with-everything white can be found at — or ordered from — most home centers. Prices for small fixtures are comparable to, or in some cases slightly higher than, those for standard models.