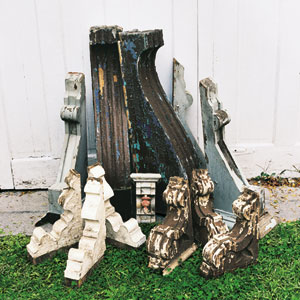 In Medieval Europe, the corbels tucked under cornices and propping up portico roofs were often grotesque. That is, they were scary by design. Contortionists, dragons, and drunkards carved into the bracket-shaped supports were thought to ward off evil. Adorning Gothic-style churches and surrounded by biblical figures, the frightful corbels—typically made of stone—demonstrated to a largely illiterate congregation the contrast between dark and light, sinner and saint.

The history of corbels in America is far less macabre. Made out of wood because of the abundance of trees here, they were often positioned at a 90-degree angle between porch posts and the ceiling overhead. Corbels were integral to the "gingerbread" millwork decorating Victorian-era facades from the second half of the 19th century. And what could be less threatening than details named for cookies?



Such fanciful trim was originally carved by hand, or by water-powered machines in mills and then shipped at great expense via riverboats to the building site. The 1860s invention of the portable pedal-operated scroll saw allowed crafts­men to set up shop in front yards, cutting down on time and expense. In a matter of days, a plain farmhouse could then be transformed into a fashionable Carpenter Gothic with the addition of sawn corbels projecting under roof eaves and supporting new wood window awnings. By using trim "boldly" and for reasons "beyond mere utility," Americans could greatly add to their home's picturesque character, as influential tastemaker A.J. Downing wrote in his popular book of the time, The Architecture of Country Houses.

By the 1890s, ornate corbels were mass-produced at mechanized mills for use on Queen Anne?style houses. Ordered through catalogs and transported cheaply on new railway lines, these corbels were available in a wide variety of wood species and ranged in size from 4 inches to 3 feet tall. They came in solid serpentine and quarter-round forms, as well as more decorative shapes with applied droplet details and side panels pierced with intricate scrollwork.

Exterior corbels were also common on Tudor-style houses, influenced by English medieval architecture, and Craftsman bungalows built in the early 1900s. These corbel designs were far simpler than Victorian-era ones, possessing clean lines and sharp angles that emphasized strength over ornament.