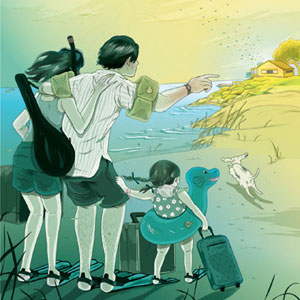 For years it was just a dream—a crazy idea they kicked around every once in a while for fun. But last December, after decades of saving their money, John and Linda Mucci took the plunge and bought a vacation home in Florida. And their timing couldn't have been better.

By the year's end, the number of sales of existing homes in the Sunshine State had plummeted nearly 30 percent. And after five years during which the median home price climbed a staggering 84 percent, prices began to decline statewide. The softening market gave the Muccis unexpected bargaining power: They bid $50,000 less than asking price for a "perfect" two-bedroom condo near Naples, and their offer was ­accepted on the spot. Now they're snowbirds, spending part of the year in Rockland County, New York, and part in Florida. "We feel right at home down here," Linda says. "We love it."

The Muccis benefited from a trend that's affecting some of the country's most popular second-home hot spots, many of which have been hit hard by rising interest rates and overbuilding. Sales of vacation homes in California declined by 37 percent in 2006, according to DataQuick Information Systems. Across the country in the strong second-home market of Martha's Vineyard, sales were down 14 percent, ac­cord­ing to The Warren Group, publisher of The Banker & Tradesman newspaper.

But what's bad news for developers and investors may be good news for you. When it comes to second-home sales, this is a buyer's market. So now might be a great time to snatch up that golf course retirement condo or Montana mountain retreat you've been dreaming of. As long as you do your homework first.