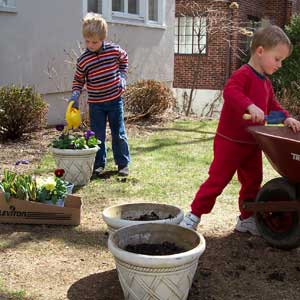 Children gravitate to gardening for some very basic reasons: Dirt. Water. Hole-digging. To which I'd add, from my experience with two boys: Food. And bugs. (Not that they should ever be confused.) And they like the flowers.



Sure, kids love to see seeds sprout, then leaf out and eventually bear flowers or tempting berries or tiny tomatoes. But that takes time—and ten minutes can seem an eternity to little people with short attention spans. So if you want your kids to get excited about the plant part of gardening, look for projects with an easy payoff.

Aim for Fast Gratification
If you're going to start seeds indoors, you can create a perfect starter nursery using the bottom of a cardboard egg container (and teach a useful lesson about recycling while you're at it) and a starter soil mix. Or use peat pots—the compressed ones that expand with water like those magic sponges are a fun bonus.

Go for plants that germinate quickly, like radishes, even if you don't like them—they come up in three or four days. If you get started in early spring, you'll have to acclimate the seedlings to the outdoors for a few hours a day before you plant them; just cut the egg carton containers apart to separate the plants. Like the peat pots, the little cardboard forms can go right in the ground, where they will decompose as the plants grow.

If seeds are too slow, buy small nursery plants to give your garden a head start. Some easy-to-grow flowers include marigolds, nasturtium, ageratum, marigolds, bachelor's buttons, cosmos, alyssum and zinnias. Equally easy vegetables include zucchini, peas, cucumber, carrots, and tomatoes.

If you have space to spare, consider giving your kids their own garden plot, so you can keep yours intact. If space is an issue, plant in containers; most plants will do equally well in pots.