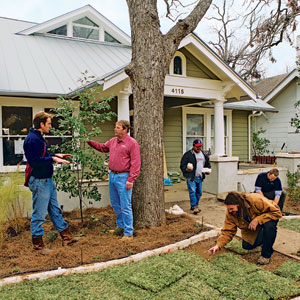 Michael Klug and Michele Grieshaber wanted to live in a green house, a home that would have as little impact on the planet as possible. Sensitive to the effect their consumption of natural resources has on the environment, they worked with a green architect, hired a green builder, and asked This Old House TV to help them remodel their 1926 Craftsman bungalow using recycled materials, energy-saving systems, and eco-friendly building methods. But their green ethos didn't stop at the four walls of their house.

This being Austin, Texas, the weather is temperate enough for residents to enjoy the outdoors most of the year. So the couple applied their green thinking outside the house as well, turning their generic suburban yard into a sustainable landscape.

Rather than being designed primarily for show, a sustainable landscape is more about function: providing food and cover for birds and butterflies, protecting water resources, and reconnecting city dwellers with the natural world. The plants are suited to the climate and soil, so they require less care to thrive, and hardscaping materials impact the ecosystem as little as possible.

Roger Cook, This Old House landscape contractor, says homeowners are becoming more interested in eco-friendly yards. "Everyone is aware of the effects of fertilizer and pesticides and where they go when they leave the lawn," he says. "People question plant choices, looking for native alternatives, and ask 'How can I maintain my yard organically?'"

To reimagine their small lot, Michael and Michele hired local landscape designer J. Adams Kirkpatrick. Out went problem plants, and in came native species and efficient drip irrigation. The lawn shrank. Impervious paving made way for gravel that lets rain seep through. And a new rainwater harvesting system went in to free the landscape from its dependence on city water. The design was so eco-friendly, in fact, it garnered the team a Green Garden award from the City of Austin.

What the couple did is actually quite simple—doable for any homeowner hoping to reduce the negative effect their yard might have on the environment. Here are five keys to their plot's sustainability.