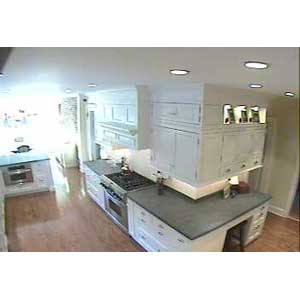 I'm the kind of person who wants to look at everything," says Heidi Smith. "I know what I like when I see it, but I want to see everything first." That can make for rather a long decision-making process when you're working on a project as extensive as the Lake Forest Dream Kitchen. When you have a total of 12 weeks from start to finish—and when the start comes as a complete surprise, announced live on the Today Show—making decisions simply can't be protracted. What's a homeowner to do?

I had a clear vision of what I wanted," says Heidi. "And I had lots of help! Plus, with so many manufacturers donating products, it actually made it easier, since it narrowed my choices. For example, Kris (of the husband-and-wife team of architect John Krasnodebski and design/builder Kris Boyaris) was very much in favor of polished nickel for the faucet. Once we talked it over I was convinced she was right—and I got to pick from the Kohler catalog, which had several choices in polished nickel, including one that was perfect.

Heidi had a lot of choices to make before she opened the faucet catalog, starting with design and layout. "I wanted something unique," she says, "and it had to have a presence from the foyer, because you can see it from there. The kitchen is small, so size was always an issue. Everything had to have the right look and be the right size. And it was important that the new room be in keeping with the history of the house." The Smiths were fortunate in that they had original drawings from when the house was built in 1928, so they had a lot of documentation on details. "We were able to base a bank of cabinets on those drawings," Heidi adds.

Laying out the cabinets was challenging, but methodical. "We started by placing like with like—you know, dishes near the dishwasher, pots and pans near the stove—and I had to visualize all my things and figure out where everything would go so I could order all the storage pieces I'd need. It wasn't too detailed, just a general inventory to figure out what cabinets I needed, what I needed space for. I'm the Tupperware queen, so I knew I needed space for that. We needed a food pantry, and pan drawers, and room for baking items, and places for towels. I'd lie in bed at night thinking about it, trying to remember how my old kitchen in Florida had been organized, and eventually all the pieces fell into place."