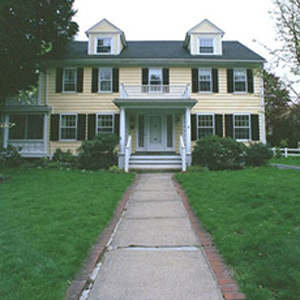 If you've ever walked away from your house leaving a contractor or work crew behind, you know how nerve-racking an experience it can be. It's a homeowner's dilemma—you've got to go to work to pay for the project, but you desperately want to be home to watch the work progress. If only you could do both....
The owners of This Old House project houses can check in on Tom, Norm, Richard, Roger, and their crews using our 24-hour-a-day
Webcams
—four live cameras simultaneously recording progress on different areas of the house. At the Winchester house, for example, cameras were trained on the front and back of the house as well as on the kitchen. The fourth camera was a Tommy Cam, which general contractor Tom Silva moves to wherever the action is.
The good news for our audience is that the live feed from all these cameras is available on the Web site, allowing fans to check in on the house in real time as the work is done. Since we only have 18 half-hour episodes for most projects, there's a lot going on that we don't get to show you on television. The Webcam lets you check in every day, throughout the day, to see what's up, and its time-lapse feature lets you look back at the project from the very beginning.
It also provides a look ahead at what you'll be seeing on future episodes. Since work on the main project house can take six months or more, we get started long before the fall television season begins. You can start watching on the Webcam as soon as the work starts, long before television viewers see it. For example, right now on the Webcam, you can check out the almost-finished Winchester house. In a few weeks, you'll be able to get a sneak preview of our winter project, the
Lake Forest Dream Kitchen
. Watch us set up the project and get started with the renovation work long before you start seeing it on TV.
Bookmark the
Webcam page, and check in on it often.