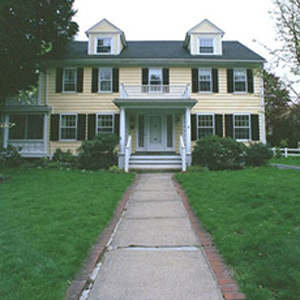 When This Old House chooses a project house, it's only natural that we put all our energy into the task at hand—getting that house into shape for the homeowners to move in, or to move back in, as the case may be. The homeowners have a budget, the crew has a construction plan, and the television producers have a shooting schedule; we need to keep all those in mind as the work progresses. But, there's even more to it than all that.

You'll often see the homeowners on television with us, approving the plans, pitching in with the work, and making decisions along the way. What you don't usually see is what's going on in their lives outside the project. Is the project house their current home, or are they selling a previous home and getting this one ready for moving day? Where are they living while the work is going on? How are they holding up under the stress of a major renovation?

Kim Whittemore and Bruce Leasure, the owners of the Winchester project house, were new to their neighborhood, recent arrivals from Huntsville, Alabama. Being the new kids on the block feels familiar to them, as they were relative newcomers to Huntsville as well. They'd barely had time to settle into their brand-new home there when Bruce's Huntsville-based employer was acquired by another company. Bruce and Kim decided to take a few months off on a well-deserved sabbatical in Puerto Rico—but their plans were interrupted on the third day by the offer of an exciting new position in Concord, Massachusetts. Bruce and Kim decided the opportunity was worth the move, and they headed north to look for yet another new home.

Bruce and Kim fell in love with Winchester the first time they drove through town. After a few weekends driving up and down the streets of the Flats, they spotted a new "For Sale" sign on a beautiful old Colonial Revival. They walked through the house with their real estate agent for 30 minutes on a Saturday, Kim spent another 15 minutes there on Monday, and that was enough. They made an offer, bought the house, and the rest is This Old House television history.

At the time we were working on the Winchester house, Kim and Bruce were also in the process of saying good-bye to their beloved home in Huntsville. As it turns out, the story of the house and neighborhood they're leaving behind is almost as good as the ongoing tale of the renovation.