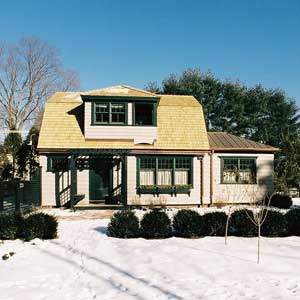 Back in the spring, when Jeff and Janet Bernard were having their first conversations with This Old House, they didn't dare tell anyone about it. The whole thing seemed like a long shot — the barn conversion seemed too small to be chosen as a This Old House project, the odds of getting all the required permits in time for the TOH filming schedule seemed too steep.
Suddenly it was summer, the deal had been struck, and the permits looked like they'd squeak through just in time. The Concord Cottage was a go. The Bernards and their son, Andrew, and Janet's parents, Len and Jackie Buckley, were about to become television celebrities, if only for a season.
By early July, the Bernards had let a few neighbors in on their plans — after all, the block was about to be disrupted by a major construction project. Then, a few days before the crews actually showed up for work, the Web cams were installed, blowing the Bernards' cover once and for all.
"I hadn't mentioned it at work," says Jeff, a director of software product marketing at EMC Corp. "But one of my colleagues visits the Web site and one day he saw our names and our house there." The secret was out.
The work, and the filming, were scheduled to begin the second week in July. Anyone in the neighborhood who hadn't heard about it before then was clued in the day the 40-foot crane showed up and parked in front of a neighbor's house.
"We had talked to the neighbors first, of course," says Janet. "This Old House was getting an aerial view of the neighborhood — the crane caused a bit of a buzz, although it probably would have been even bigger if people had realized there was a cameraman up there."
From then on, nothing was quite the same for the family. Janet will be seen on camera more than Jeff, who is leading the charge on a new product announcement at EMC and can't be on the work site as much as his wife is. For the day-to-day planning, decision-making, and filming, Janet's on the hot seat. It didn't get off to a very auspicious start.
"The first day we were scheduled to film I go out on the porch to straighten up, and I sprain my ankle," she groans. "The whole outfit I planned went out the window, because I couldn't get my foot into a regular shoe."
Janet switched outfits and gamely continued on into her debut episode. She's the first to tell you the on-camera part didn't come naturally. "I got my lines wrong about twenty times," she reports. "If I ever had the slightest thought that I could be an actress, that's been squelched. I have a whole new appreciation for actors and actresses."
To make things worse, the first day's filming was on a deadly hot day inside a stuffy, unventilated barn. "It was so hot upstairs in the barn — it must have been 120 degrees up there — and I kept flubbing my lines," Janet says. "I thought 'oh, no, they'll all expire up here!' "
Janet did have one advantage most TOH homeowners don't have — she wasn't alone in making her debut. Brand-new TOH host Kevin O'Connor was making his own first screen appearances right along with her.
"There was a certain degree of nervousness for me, since this is so different from anything I've ever done before," says Kevin. "But that nervousness is alleviated by the people I'm working with, not only guys who can carry you with their wisdom, but even by Janet, who is a reminder that I'm working with regular homeowners with regular problems."
This Old House episodes aren't scripted at all, and the scenes shown on the air are actual conversations that take place as the camera rolls. Kevin says that helped get both him and Janet over their original nervousness. "All we do in advance is think through the points we're trying to get across in a scene," he says. "So once you forget about the camera, it's just a regular conversation, asking questions, solving problems. Of course, you do have to get your point across efficiently, so you don't have all the luxuries of a regular conversation — you can't stop and say, 'now what was I just saying?' But we can go back and do it again until we get it right."
Six or seven episodes later, Janet says she's feeling a bit more comfortable about filming. "I'm finding it a lot easier," she says now. "I'm much calmer, and I'm finding the humor in it. It's gotten to be fun, and I don't mind those times when we have to do it again. You don't have to say every word exactly right. I've learned to be myself, and it comes easier."
Kevin's pulled ahead of Janet in the filming department, having done many hours of scenes with building inspectors, real estate agents, and other professionals you'll see in the Concord Cottage project. By now he's also done several episodes of Ask This Old House and 52 episodes of the new show
Inside This Old House
, so he's starting to seem like an old pro.
"Kevin is very easy-going, very funny," says Janet. "He fits right in with the guys, you can see it evolving. They're all buddies now, he knows the inside jokes — whatever they are. You can see in that first episode how nervous we both are, but we're both getting more relaxed about it. I'll miss it when it's over!"
Kevin's also become a big fan of Janet's. "She's tremendous," he says." She's got a very easy, relaxed way about her. Some people get so preoccupied with the camera that they lose their sense of self, but not Janet. She doesn't seem to think about the camera, she's just herself, so you get to see her great personality."
As the nervous newbies evolved into self-assured host and homeowner, the dog days of summer gave way to cooler temperatures of autumn. The priorities are right where they belong — not on talking to the TV audience but on working hard; finishing the planting, fencing, and painting before the true cold sets in; and finishing the job by the middle of December. Jeff Bernard may not be on the site much, but he has no doubt about that.
"Clearly these guys are the best in the industry," he says. "You know how construction usually is — it disrupts your life and there's no one to appeal to when things go wrong. This will be high-quality work, and it will be done on time. It's a beautiful thing."
Janet concurs. "These guys are so genuine, and so nice, incredibly professional," she says. "I've been very impressed with how nice they are to the neighbors when they come up to talk to them. They're incredibly pleasant, very nice to work with, just what you hope for in a contractor."
And as anyone who's ever had work done on a house can tell you, that's a beautiful thing, indeed.