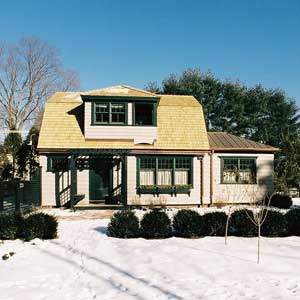 The Concord Cottage offers a mere 1,000 square feet for an entire home: kitchen, dining room, storage, living space, storage, bedroom, baths—and did we mention storage? Jackie Buckley moved from a nine-room house into this cozy little home, and although she jettisoned possessions, she still needed lots of space for books, linens, kitchen gear, clothes, mementoes, and the rest of the "stuff" she couldn't bear to leave behind. Even with daughter Janet Bernard and her husband Jeff making space for storage in their own basement, it was imperative that the cottage provide enough storage space for everyday items.

Holly Cratsley of Nashawtuc Architects designed a space plan that took advantage of every centimeter allowed by the Concord zoning rules; she created an interior layout on two floors that could be converted to a single-story apartment should Jackie prefer that later. Interior designer Tricia McDonagh of Charles Spada Interiors took an efficient and well-designed space plan and turned it into a beautiful, comfortable, and workable home. Starting from the architect's layout, McDonagh took the raw shape of the cottage and transformed it into a real home, with detailed drawings and plans for everything from the doorways and entry flooring to the kitchen cabinets and furniture upholstery.

"Tricia is the one who pulled it all together," says Janet Bernard. "We wanted it to have an overall feeling of elegance and simplicity, very home-like. The first thing we did was work with the architectural elements; in Tricia's first attack at the space she made the doorways into arches, and she separated the kitchen from the dining room with glass windows."

McDonagh says she likes working in small spaces, since she sees it as a puzzle, with pieces that have to be made to fit. In a small space, seemingly simple changes in the floor plan can make a big difference—widening the doorways and turning them into archways helped bring more light into every room. "The attributes I give to a project can add warmth," she says. "The arches give the cottage the character of an old carriage house—that has a little more romance than an old barn, and creates a little formality."