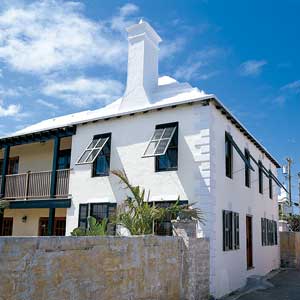 The wind is blowing at 40 knots across St. George's Harbor, a ferocious tempest pulling blinding sheets of water onto land at unexpected intervals. It's not rain — it's seawater, whipped up into a frenzy by the wind and periodically slapping this beautiful Bermuda town right in its face. It's the kind of day architect Colin Campbell calls "perfect," although he admits that's because he's watching the storm from his office and not out riding his bike or visiting a job site.

The weather seems appropriate as Colin talks about the latest This Old House project, the nineteenth-century Georgian known as Harbour View. "This project is a perfect example of chaos theory," he says with a laugh. "The fundamental challenge — and the thrill — is the shortness of time coupled with our unique Bermuda situation. How do you make things happen six hundred miles at sea?"

Making it happen is a big part of Colin's job, but he's the first to say this is no one-man show. "We're dealing with quite a cast of characters here: the contractor, the subs, the television crew, the homeowners," he says. As usual with one of our winter projects, the schedule is impossibly tight: A full-blown renovation and expansion of a historic home, complete with state-of-the-art kitchen and guest apartment, with construction starting in November and finishing by March.

A tight schedule is always a challenge for builders, especially so in Bermuda. Anything not native to the island has to be imported, which is an expensive and time-consuming proposition. Builders recycle and reuse whatever materials they can, but there's no way around it: some things have to be ordered. For a construction project starting in November, that makes for an added challenge.

"In Bermuda around Christmas there's a shift in the cargo that get shipped here," says Colin. "The cargo is Christmas trees, and bikes, and footballs, not necessarily cabinets. So there's a delay in getting materials, and time is so crucial on this project."

The clock started ticking on the project in October, when This Old House selected Harbour View as its next project. The house is owned by Delaey Robinson and Andrea Dismont, who also own and operate Aunt Nea's Inn next door. Colin had worked with the couple on Aunt Nea's, and they'd had some preliminary conversations about the house renovation. A student had drawn up a survey, and Colin had sketched out a basic plan. But they were nowhere near ready to begin when they got the call.

"When we first started talking about this renovation, on this schedule, Delaey said that if we did it, it would be the fastest surf ever," says Colin. "When we got the call in October from This Old House, I told him, Surf's up! In a few months they'll realize a residence that's usually a two-year operation."

At the center of the chaos is a quest for calm. "Delaey and Andrea had a bad case of life sneaking up on them," says Colin. "Both had been high up in the corporate world, and they took the opportunity to run the inn and have a less stressful life. Along came the little people, and then they had the challenge of running the business and raising the kids. And you know children, like puppies, don't stay forever young and in a bassinet."

Delaey and Andrea told Colin they wanted two or three bedrooms, a living room, and a kitchen and dining room that would allow them to indulge their love of cooking. Mostly what they wanted out of Harbour View was, well, a safe harbor.

"They wanted something to be part of the inn, part of their domestic bliss — a safe location for the boys, with a place to play," says Colin. "We've talked about where the sandbox can go, where the play set will be set up, things like that. Delaey wants a garden to tend to, to continue what he learned as a boy and pass that down to his own sons. There's much joy in this process for an architect. It's very real problem-solving — these are nice people trying to get squared away. Their younger son had been very ill at one point; now he's through the worst of it and the family is looking for repose in a sea of turmoil."

The repose won't come until after the middle of March, when the project is complete. In the meantime, there's the tumult of the fast-paced schedule and the chaos that looms when many hands share a task. The up side is that with so many talented people on the job, creativity erupts on a regular basis. " If you have no notion of angels, you should be a part of this team," says Colin. "There's wonderment happening before our very eyes."