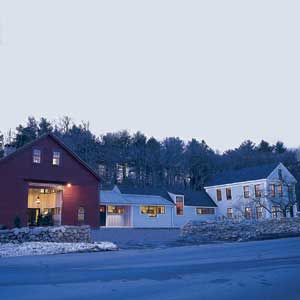 The challenge we handed Alexa Hampton for her first assignment as crew member was a bit out of the ordinary. Our twenty-fifth anniversary project house in Carlisle was a designer show house before it became a private home, so we invited in a wide range of designers to work on the individual rooms. Alexa's challenge was to lay the groundwork for the designers, to develop the perfect canvas on which they would create their designs.

That groundwork involved all the myriad details that most people never notice, but that make the difference between a home that feels right and one that feels somehow "off." Moldings need to be the right size for the ceiling height, or they'll appear uncomfortably out of proportion. The width of the floor planks has to suit the scale of the room. Window hardware must be functional and beautiful, yet unobtrusive.

"I've been working on it since about April," said Alexa. "I wanted to respect the outside of the house—you see too many homes where the interior has no sense of 'ownership' with the exterior. I started by doing due diligence on the Greek Revival style, so I could make the intellectual decisions. Then when I met the architect [Jeremiah Eck] we talked about his vision for the project, so I could work in line with that—I think you get a better product that way."

Research into the Greek Revival style gave Alexa insight into the right window casings, door styles, and mantel details, but such research has its limits. "There's no such thing as a Greek Revival Sub-Zero," laughed Alexa. "We'll have a charming, function-driven kitchen with all amenities. No Louis XVI, no sleek Eurostyle. I asked for off-white cabinetry with rubbed bronze hardware — it looks organic and it won't hem in the kitchen designer."