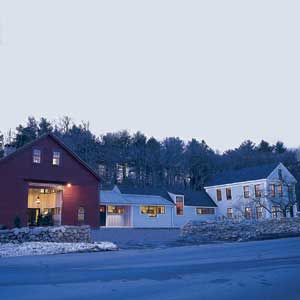 Imagine nearing completion on your house renovation, with carpenters, electricians, and plumbers still at busy at work, and suddenly the painters, wallpaper hangers, and your decorator show up to do finish work and set up the furnishings. Oh, and there's a TV crew filming, and a class of 9-year-olds have arrived for a school field trip.

That pretty much summed up the scene at the Carlisle house at one point. Tom Silva and his crew were completing construction in the barn—trimming out the windows, finishing the floor, putting appliances in the wet bar, and installing hardware. Meanwhile tile contractor Joe Ferrante was patiently tiling the entry hall as workers around him replaced a broken glass door and install a security system, and the This Old House TV crew was setting up to shoot. Designer Kathy Marshall's decorative painters created a Venetian-plaster finish on the kitchen walls and ceiling, and decorator Frank Roop's paperhanger carefully applied squares of hand-cut wallpaper to the master bedroom walls. "Right now it's a three-, no, make that a 10-ring circus",says TOH producer Deborah Hood. "But the amount of goodwill—because this is a TOH project—is overwhelming. Everyone is managing to dance around each other to get the work done." That was still the case even after a school bus pulled up to the barn and unloaded a class of Carlisle Elementary School kids whom This Old House Master Carpenter Norm Abram decides to entertain with a series of carpentry-related math problems.

In all, 22 separate teams worked simultaneously to get the house ready for the taping of the final TV show. This Old House Senior design consultant Alexa Hampton collaborated with architect Jeremiah Eck and the TOH team to select the architectural details and design elements that unify the house's three structures—Greek Revival main house, the timber frame barn, and the connecting one-story ell between them—into a coherent whole. "We chose things that are modern but have a classical foundation," Alexa says.

We were able to go behind the scenes to see how three of the designers put their personal stamp on the show house's three largest rooms—the living hall, master suite, and dining room. Take a look.