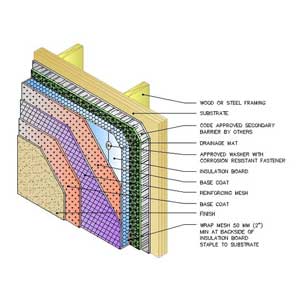 Our 2005 Cambridge, Massachusetts, house project put a spotlight on an exterior cladding material referred to as exterior insulation and finish systems. EIFS (pronounced "eefs") are flexible, synthetic stucco applied in five layers: adhesive, insulation board, a base coat embedded with a fiberglass reinforcing mesh, and a finish coat in the desired color. The finish can look like antique brick or stone, providing an old-home feel for about $4.50 to $7.50 per square foot. The bulk of the price is labor cost. The material resists cracking, the bane of stucco, and can be repainted, unlike vinyl siding. Cambridge homeowner George Mabry chose EIFS for those reasons and because it provides additional insulation. Yet EIFS has a controversial history.
Earlier versions were associated with moisture decay that caused significant structural damage to homes, particularly in wet regions. New developments, however, have alleviated that risk in properly applied cladding. And there are ways homeowners can protect their homes from damage if they have an older version or if a newer version was applied incorrectly. In the mid-1990s, in states like North Carolina, homeowners with the once-popular barrier-style EIFS began to report problems with moisture-related decay in studs and sheathing. That's because there were gaps between the EIFS and windows or doors that allowed water to seep behind the cladding. And then insufficient drainage trapped the water, resulting in rot. By 1996, EIFS makers began selling so-called water-managed EIFS, which places foam board weather barriers against the house, some of which have grooves that channel water from behind the finish. Many builders have accepted the new products and voice few worries that they will result in water damage. But to work, the system needs to be installed properly. Tom Kenney, VP of contract research and head of the applied engineering division at the
National Association of Home Builders Research Center
, recommends against jumping blind into EIFS.