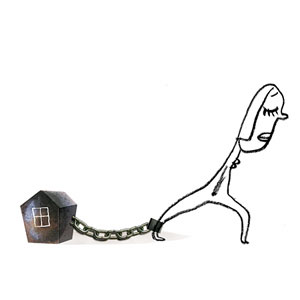 It was not my idea to build a country house. But my husband, David, had his own dreams. Misguided dreams. A Manhattan apartment dweller who hadn't handled a hammer in years, he believed that building a glass-and-cedar home in a remote corner of the Catskill Mountains would be easy. Rewarding. Mentally stimulating. The way I saw it, if we had to have a house, why couldn't it be one already built? Within walking distance of a charming town in, say, the Bahamas? But no. He wanted to build on a windswept mountaintop surrounded by 30,000 acres of untamed forest.

It's not that I'm against nature. I like nature. Especially manicured lawns surrounding stone fountains. But our plot had rocks and rattlesnakes and the howl of coyotes. It was 35 minutes from the nearest coffee shop, and being that far from cappuccino puts me on edge. New York City is beyond my comfort zone, climatically speaking, and this piece of land was two hours north and 2,000 feet up.

Besides, what did I know about houses? I was a renter. As a renter, repairs are not your responsibility. Whenever I needed a hook hung in my apartment, I called Vinnie at the hardware store and hired him to do it. I didn't own a power drill or wrench or nails. When I met him, David didn't even have cuticle scissors he could call his own. Now we'd set off on a vision quest to exploit our incompetence in the most expensive, time-consuming venture we'd ever tried.

We broke ground in November, the excavation team dynamiting through the area's notoriously rocky land. Our lack of experience immediately proved costly. The architect's foundation plan called for enough concrete and steel rebar to support a house in the middle of a swamp. Or so our contractor told us—after he'd laid it. "By the way, it cost five thousand dollars more than your foundation allotment."

Why hadn't he told us this earlier? Why hadn't we asked? Because we didn't know what we were doing. The electrician's bill came in $2,000 above the estimate; he'd given his bid based on an assumption that we'd want a single ceiling-mounted fixture in every room, this for a home with 17-foot vaulted ceilings and an architect's restriction against canister lights.

As construction dragged on through the winter, I found the sheer number of choices overwhelming. We had to locate electrical outlets and switches, design bathrooms, buy vanities and mirrors, choose tile and tubs. Did we want radiant heat or forced-air? Solid wood flooring or engineered? I'd stand inside the freezing shell of a house, wearing boots and a sweater, down vest and down coat, snapping out decisions until the cold drove me to the car, where I'd crank up the heat and watch my life tick away on the digital clock, trying not to cry.