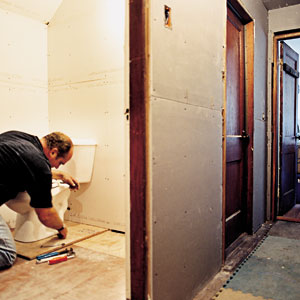 For Christine Flynn, a typical winter morning means wrapping up in a warm robe and thick socks and feeling her way from her attic bedroom along the hall and down the stairs to the lone bathroom in her duplex apartment. But when her place went through a major renovation as a This Old House television project—along with the other apartment in the 1916 house, owned by her niece, Liz Bagley—it was time for an upgrade. A new bathroom that's closer to her master bedroom was always at the top of Chris's wish list. But she worried that her modest budget might not allow her to go where no plumber had gone before.

Chris was right to be concerned. She didn't have much to spend (the combined budget for both apartments was $250,000, which doesn't go very far in the Boston area), and new bathrooms are notoriously pricey. Per square foot, they're the most expensive rooms in the house—plumbing, tilework, cabinets, fixtures, fittings, and lighting can exact a brutal toll on a homeowner's bottom line.

It's costly enough redoing an existing bath, but how do you install one where there's never been one without making increasingly frantic calls to a mortgage broker? By making savvy choices: stealing space where you can find it, placing plumbing where it's least costly to add, and picking fixtures that look good but don't cost as much—or as much to install—as their pricier counterparts. Here's how.

To Find Room, Make Use Of Little-Used Spaces

Seasoned renovators zero in on dead spaces that aren't being used efficiently: attics, closets, pantries, laundry rooms, basements, and garages are typical locations. A side porch—once considered perfect for a sunroom—is even a good choice. The ideal is to find a closet or some other storage space between bedrooms and open the walls, robbing a few feet from each bedroom.

Older houses present the biggest challenge because many weren't built with closets. "That's when it becomes a real dilemma," says Kathy Marshall, the kitchen and bathroom designer responsible for creating Chris Flynn's new master bath. "Sometimes you have no choice but to lose bedroom space or even eliminate a bedroom altogether."

Extra attic space near a top-floor bedroom offers a great solution, as Chris discovered when Marshall suggested taking over unfinished space next to her bedroom, but only if you have high enough ceilings and can avoid messing with joists or rafters. Her attic boasts a generous 14-foot ceiling height, which means TOH general contractor Tom Silva didn't have to cut a hole in the roof and install a dormer to create headroom, as he usually would on such a job.

There is one other way to cheat your home's bones if you don't have enough headroom. "The tough spots are in front of the sink or toilets, where people need to stand," says Amy Hall-McNamara, an architectural designer who works with historic homes in San Francisco. "If you put in a skylight, you can gain up to a foot of space—enough to make you comfortable."

Fitting It In



Carving out a full bath doesn't require much square footage. Here are three ways to do it: 1. Urban rowhouses traditionally have space—or an existing room—between a front and back bedroom, as well as small rooms stacked over the front entry. Both have enough floor area to become a bathroom. 2. Sacrificing closets is a common way to gain a bathroom. In a single-story house, a laundry room next door makes tying into the plumbing a cinch. 3. Second-floor porches make good master bathrooms, as they're often large and attached to the biggest bedroom.