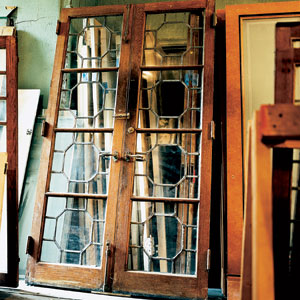 A door's primary function is to close one space off from another. But when the door is also a window, the barrier is fluid, allowing light and views to pass through. Such is the case with French doors, which are lined from top to bottom with divided lights.

Now common throughout the United States, such windowed doors first became popular in the 18th­century French Colonial era along the Gulf Coast, where they hung in the exterior walls of virtually every room of Creole cottages and plantation houses.

Swung open, French doors helped maximize ventilation and provide comfort in the region's hot and humid climate, says Eugene D. Cizek, director of preservation studies at Tulane University in New Orleans. They also provided direct access to the wraparound porches, or galeries, that functioned as passageways between rooms. Unlike houses of English Colonial origin, such as Georgians, where rooms were connected by interior hallways, in French Colonial houses rooms opened directly into each other and to the outside.

By the early 20th century, architect Frank Lloyd Wright was using French doors in his Prairie-style masterpieces, such as the Robie House in Chicago, where they erased the transition not only between inside and out but also between the billiards room and kids' playroom. Millwork companies of the era soon caught on and began marketing French doors as airy room dividers.

Today, salvage dealers stock a wide variety of vintage originals for reuse in both new and old construction. At The Old House Parts Company in Kennebunk, Maine, simple yellow pine French doors from the 1930s with 15 divided lights per panel start at $400 a pair. Earlier and finer oak sets with beveled glass panes sell for $1,600 or more.

The architectural style of French doors is indicated primarily by the shape and configuration of wood or metal muntins set within stile-and-rail frames: Stacked rows of multiple squares are typical of the Colonial Revival style; diamond-shaped panes of Tudor and Gothic Revival; leaded geometric and floral patterns of the Prairie style; and square-and-rectangle combinations of Craftsman.