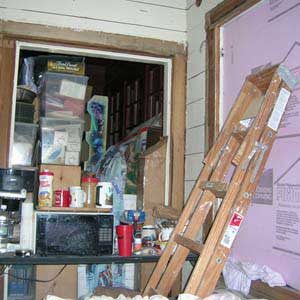 Blood, sweat, tears, and money, money, money—home renovation can drain you. But, really, you think you've got problems? Compare your tales of woe to these folks' DIY disasters, and you might just feel better.

Christina Sloan, New Castle, Colorado
The property values in this area are so high here that last year I bought a 2 bedroom, 1 bathroom 112-year old home that was condemned for $160,000, just to get into the market. Although many people recommended that I demo the house, I decided to try to save it. I had no idea what I was in for. I thought I could afford to lift the house and repour the foundation. What I did not calculate, though, was all the expense in rewiring, replumbing, reducting, regrading, and re-landscaping the house after it was set back down. When we lifted the house, the back 300 square feet collapsed. So, I paid the house movers $12,000 to make my 2 bedroom house a 1 bedroom house.



And we lifted it just before Katrina hit New Orleans, and just before one of the major western concrete factories closed for repairs. So, we could not find concrete anywhere. My house was supposed to be lifted for about 6 weeks. Well, it took me 6 weeks just to get concrete. Then, I had to wait another 30 days for the concrete to set. I was ready to set down the house. But, alas, one of the wettest and heaviest winter seasons hit Colorado. My house was in the air for almost 5 months. I gave my dog to my boyfriend, who lives in Utah, and couch-surfed. I financed the house 100% so that I could put my $25,000 of savings into the house. $80,000 later I'm only half-way done.



Gwenna Gundy, Caledon, Ontario
When we moved into our new house, we knew that we wanted to renovate the bathroom. The tile was too dark and the appliances were in rough shape. Thinking we could do this on our tight budget, we got started. That was when everything went downhill. When we started removing the tub surround we found tile behind it. "What a pain," we thought but just a small delay. But behind the tile, we were confronted with more than we bargained for. We could see the inside of the shingles on the side of the house. The entire wall, including the insulation had rotted away!



One discovery after another, and we were eventually forced to gut the entire bathroom right down to the studs. Triple the cost later, we have a functional bathroom.