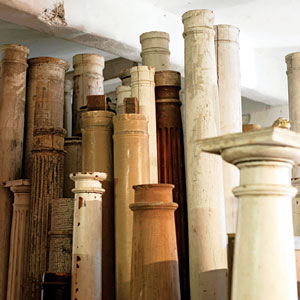 Columns follow a classical order—edicts of design and proportion set out millennia ago by the Greeks and Romans. But when it comes to installing salvaged wood ones at your house, go ahead and mix it up.

So what if the ancients wouldn't approve? They've long since bitten the dust. And besides, one of the best places to use old columns is inside the house, where rules governing the facades of temples and monuments simply don't apply.

Rescued from the porticos of razed or remodeled Greek Revival?style buildings from about 1830 to 1860, and ­later Colonial Revival and Neoclassical ones from the first half of the 20th century, salvaged columns are often too weathered to reuse as exterior load-bearing supports. "Anything that's been outside like that will need significant restoration because people tend not to maintain them," says Reynold Lowe, owner of Materials Unlimited, an architectural antiques store in Ypsilanti, Michigan.

Instead, use porch columns—which cost $200 to $1,500 apiece depending on condition, age, size, and design—in open-plan interiors, where they can define activity zones without cordoning off floor space, suggests Lowe. That's how some loft-dwelling customers used 10-foot- tall tapered columns with Corinthian capitals (tops) that Lowe salvaged from a demolished building on the ­University of Vermont campus.

"There's a big move to recapture old industrial space in urban areas for residential use, but these lofts tend to have a stripped-down look that can be fairly sterile," says Lowe. A single column in a corner or a few lined up in a row forming a partition between a sleeping and living area, he says, "can add a terrific amount of visual interest." Flanking either side of a kitchen breakfast bar, floor-to-ceiling columns can also separate food prep from the dining area without blocking the cook's view, or the flow of conversation and foot traffic.