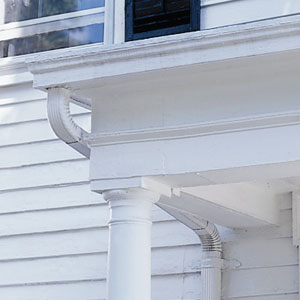 Schondorf took her research several steps further and invited some local experts to assess her home. As they studied the exterior and interior of the Schondorf house, John Massengale, an architect and historian from nearby Bedford, N. Y., and David Gengo, a restoration contractor who owns Salem Preservation in Ridgefield, Conn., immediately noted the 19th-century Greek Revival elements of the house. There was, for instance, a column motif indoors and out, as well as a casing detail around the front door, interior doors, and mantels.

But just because Greek Revival houses were prevalent in the early to mid-19th century doesn't necessarily mean that the Schondorf house was built then. The original house may have gone up earlier and received a stylistic facelift, or it may have been built later, after the style waned. "In the provinces," says Massengale, "styles hung on longer."

The date of a house's style can be supported—or contradicted—by construction details, since the frame of a house is unlikely to have been altered since the time the house was built (except in parts damaged by fire or changed with an addition). When Massengale and Gengo descended to the cellar of the Schondorf house, the consistent foundation under both the "old" and "new" parts told them the whole house was built at one time. A closer look at the floor joists, foundation, and timbers supported their conclusion. Massengale and Gengo maintained that the milled boards used in the frame came into use too late for even the center part of the house, assumed by the Schondorfs to be the 18th-century core, to have been built then. Though the timbers are clearly hewn, the joists supporting the center section have the straight and parallel teeth marks typical of a 19th-century water-milled board. "If this was a true, untouched, mid-18th-century house," says Gengo, "the floor joists would be completely made by hand."