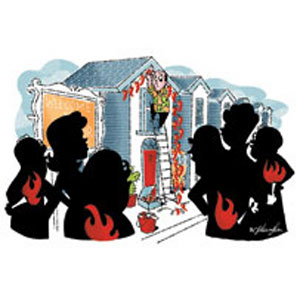 Over the past six years, residents of the town of Chevy Chase, Maryland, have watched as vintage Cape Cods, Craftsmans, and Tudor Revivals were razed to make room for McMansions that are typically more than twice their size. The trend has pitted neighbor against neighbor in a battle over preservation of architectural heritage and open space and the rights of property owners to do as they please with their own land.

The issue has divided the town and even led to vigilante justice. "After one new house that many people consider to be particularly ugly had gotten egged, I wrote a letter to the town asking people to act civilly," says Chevy Chase mayor William Hudnut III, who notes that the battle in his town of 3,000 people isn't all that different from ones being waged elsewhere. One possible explanation is that houses built today are typically more than twice the size of ones built in 1950, yet lot sizes have remained the same.

In Decatur, Georgia, following a city council meeting about a recent rash of "bash-and-builds," Atef Mansour visited the site of the 4,000-square-foot home he's building and found that someone had spray-painted "Save Our City" on his garage wall. It was the second incident of trespassing and vandalism in as many days. Mansour, who demolished a 65-year-old 1,455-square-foot house, which had been condemned by the city, to build a new place large enough to accommodate his four daughters, says he feels violated. "It's your right to own and enjoy anything that you legally have in America," he says. "If you want to stop anything from being built, go try and change the rules with the city."

Attempting to do just that, Chevy Chase residents petitioned for a temporary moratorium on new construction, a measure that was approved by the town council in August. Other communities in San Francisco, Denver, and Salt Lake City are among those pursuing similar measures. Such efforts, however, are often opposed by local realty groups, including the MetroTex Realty Association of Dallas, which unsuccessfully fought a zoning law adopted by the city council in November that limits the number of teardowns and the height of new houses and additions to existing ones. "Any overlay like this has long-term, unintended consequences that limit development, diminish potential property-tax revenue, and send a message that you don't want people to move into the city," says Peter D. Urrutia, a spokesman for MetroTex.



While the battles rage on, one thing's becoming clear: The future of America's towns will depend on residents, developers, and city officials agreeing on how to best manage future growth without disrespecting the past.