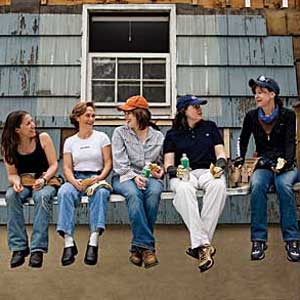 So, wow, it's big news lately: women can actually fix stuff! We buy tools! We plan renovations! We hang drywall, by golly! As the media has been reporting, women are fast gaining footing as a major force in home improvement. Single women are the quickest-growing group of home buyers, purchasing 21% of U.S. homes to single men's 9%. While Lowes' annual survey found that 69% of female homeowners or prospective homeowners consider themselves seasoned DIYers, the reality is even more solid than the self-perception: 82% of women surveyed handle basic repairs, 88% take on home improvement projects themselves, and a whopping 91% are responsible for the home-improvement decisionmaking in their households.
Of course, none of this is news to us. What with three-quarters of our editorial staff and both the producer and the production coordinator of the
TOH
television show represented by the gender, the connection between women and home improvement is That Old Story at
This Old House
.
As online editor, I have to admit that most of my fixes are broken web links. Though I am pretty proud of our web-exclusive galleries, including
Home Inspection Nightmares
,
Bed Bugs!
, and
Rebuilding New Orleans
, and I do believe our
Interiors feature packages
are mighty useful, mainly I'm just in awe of my fellow staffers, who know the difference between coping and mitering, or crown molding and picture molding, or shingles and shakes; who not only select the tile or the toilet, but also install it, and fix it when it breaks—regardless of whether they're male, female, or whatever. When senior editor Alexandra Bandon goes back and forth with technical editor Mark Powers about whether to use a lead anchor or a toggle bit, that's an argument about hardware, not gender. In other words, if you ask the staffers here who happen to be female why we work at
This Old House
, we'll tell you: it's not because we're women; it's just because we're handy.
We thought, however, in the midst of the media hubbub, we'd take this opportunity to introduce ourselves. We're hoping that, afterward, other women do-it-yourselfers will use the scribble board at the bottom of the page to introduce themselves, too. We figure if we get the introductions out of the way and establish the fact definitively here and now—that DIY knows no gender—it can only help women when dealing with contractors, designers, and, for that matter, male friends and family members when renovations are in full swing...