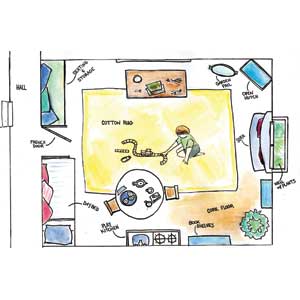 As the mother of a 4-year-old, and a fairly avid environmentalist, I know firsthand that "green" design can contribute to a beautiful playroom that you and your children will enjoy. All you need are some readily available, sustainable materials and some outside-the-box thinking. Here's how I would approach it.



1. Materials

The key to a successful playroom is to make it a place adults will also want to spend time in. That means not skimping on the design elements: architectural details, interesting colors and furnishings, and comfortable fabrics. Besides, children are often far more visually sophisticated and aesthetically sensitive than we give them credit for.

A playroom is one of the best places to use natural materials because in addition to being earth-friendly, they're also people-friendly. All-cotton fabrics and rugs resist mildew and clean up easily, which means they are healthier for children, who are more susceptible to allergic reactions from chemicals, mold, dust, and dander. Plus, many natural materials hold up better than their synthetic counterparts.



On the floor, consider cork, which is hypoallergenic, has a low-static surface so it resists collecting dust and pet hair, and can withstand moisture. It comes in easy-to-install planks or tiles and is as easy to maintain as hardwood. Cork is also soft underfoot, which makes crawling around more comfortable for kids. For the walls, you can now get low-VOC, water-based paints in a rainbow of colors from major brands like Benjamin Moore.