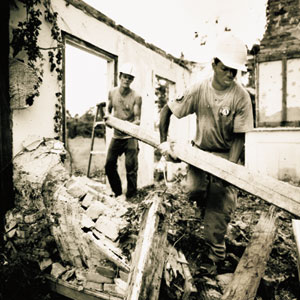 Nicholas Ducros Collins's house on Bayou Road is rubble, like so much of St. Bernard Parish in post-Katrina Louisiana. Here, where only five of 27,000 homes escaped the serious damage caused by the hurricane's winds and floodwaters, bulldozers are leveling the landscape.

But in this particular pile of handmade brick and old-growth cypress beams are building blocks of renewal for people whose cultural and architectural traditions date back more than 200 years, to when the area was a Spanish province settled by Canary Islanders. Los Isleños, as their descendants are called, want to recycle the old house parts and use them to restore a museum complex that will help preserve their endangered heritage.

While salvage is exactly what the Isleños' resourceful ancestors would have done with a ruined house, this generation is also embracing a new trend in modern building called deconstruction. The idea is to keep useable materials out of landfills by extracting them by hand and with power tools rather than pulverizing them with a tractor. "You remove things by teasing them out," says David Reynolds, director of the Green Project, a New Orleans nonprofit group that's working with AmeriCorps community service members to deconstruct the Collins home. "Everything is done in a surgical way. It's like in an operating room, but we're using three-foot crowbars to excise tissue."

Green Project deconstructions typically take place on houses that are still standing. Workers start with the roof and progress down to the foundation. But in the case of the Collins house, Katrina did much of the work. "It was a wall of debris when we got here," says Green Project site manager Jeremy Maxwell-Parish. Under normal circumstances, the group would also sell the salvaged materials at its retail store. This time they'll be given to the Isleño community instead.



Ducros Collins and his wife, Lucy, have been living in a FEMA trailer since the hurricane—as have thousands of other Islenos who returned to the parish in recent months. The couple plans to build a new house on their lot, so they donated the remains of their old one to the Los Isleños Heritage and Cultural Society, the nonprofit group that is funding the deconstruction. Its members want to use salvaged structural beams, wide plank flooring, bricks, doors, and mantels to help rebuild two severely damaged houses located on the grounds of the Los Islenos Heritage and Multi-Cultural Park. The ad hoc village of vintage house museums—some of which were moved to the 30-acre property over the past decade—teach visitors about Isleño history, as well as that of Native Americans and French and German colonists who also have roots in the region. "Everyone is bulldozing, but I just didn't have the heart to do it," says Ducros Collins. "I wanted to put the materials to good use."