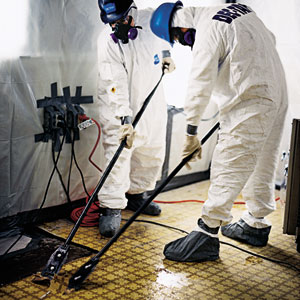 From the outside the house looks innocuous enough: a typical two-family with a sweet little white porch and stucco siding scribbled with colorful lines of ivy. But wait a second—why is that guy going in the front door wearing a white Tyvek suit? And why is there tightly taped, double-thick plastic sealing off the kitchen from the rest of the interior?

You might not expect the removal of a 1950s vinyl floor—one step in the renovation of This Old House's East Boston project house to require a crew in spacesuits and dual-filter respirators. But then, most people don't expect their old floor to be loaded with asbestos.



Along with lead and mold, asbestos is one of three big household health threats that can become even bigger when disturbed or exposed during a renovation. And while having any one of these can be bad for you, so can getting rid of it. "We've seen all kinds of materials being used to remove contaminated products, some of which introduce new contaminations," says Gary Bayne, hazardous materials expert at the University of California, Berkeley.

Responsible abatement pros, and less-toxic chemicals and methods, can help you achieve your goal of a healthier home. Here's what you should know if you discover any of these problems in your house.