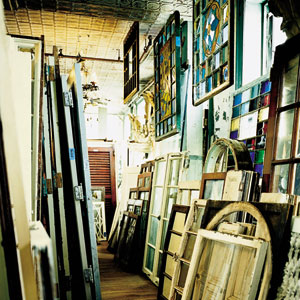 If a double-hung is the workhorse of the window world, with its sliding sash to let in air and shut out rain, then a fixed-in-place fanlight, eyebrow, or circular window is the show pony. Such accent windows are meant to catch the eye: topping a paneled wood entry door, winking from below an undulation in a shingled roof, or tucked under the eaves in a front gable.

The window types do share similarities, though. Just as the number of divided lights or panes in a double-hung helps you discern the difference between a Georgian-style house and a Greek Revival, an accent window's shape and intricate pattern—formed by wood muntins or metal caming—can define a house's architectural heritage.



Designs of early American windows were driven primarily by the availability of glass and the technology for making it. In the 1700s, the majority of glass was handmade in England. Imports were expensive, and panes were often small. So small, in fact, that in order to fill a typical window opening, they had to be grouped together in a wooden or metal grid.

By the end of the Civil War, American factories began to turn out larger and higher-­quality panes that allowed for greater diversity in textures, patterns, and shapes, as well as more affordable prices. Catalogs followed with mass-produced windows to dress up Victorian-era houses. In one, a circular sash with a ­center clover design, for instance, was one of 12 offered for use in the gable ends of Queen Anne, Gothic Revival, and ­Shingle-style ­houses.



Though typically sold as stationary units, hinged ­accent windows were also touted as a way to add ventilation above doors, alongside fireplaces, and in powder rooms, cellars, and attics. Diminutive ones also had special attributes, according to the 1927 Universal Millwork Catalog. "Small sash greatly improve the architectural appearance of a home by breaking up blank spaces in which an ordinary window cannot be placed."

The use of accent windows came to a halt after World War II as Americans abandoned such ­flourishes in favor of Modern minimalism. Ranch houses of the 1950s and 1960s had low-pitched roofs and rambling facades punctuated with enormous ­single-pane picture windows.