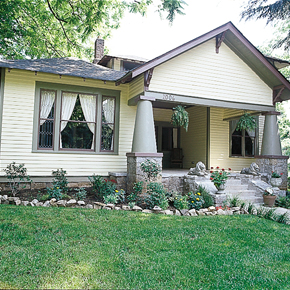 No strangers to monster projects, Kara O'Brien and Paula Rose have been hobbyist house restorers for seven years, turning fixer-uppers into handsome homes and "flipping" them. But when they took on a rundown bungalow in Kirkwood, a section of Atlanta experiencing a revival, they knew no amount of resale profit could make them give it up.

For five years they had walked past the house in their tree-lined neighborhood, thinking it had potential. So when the property went on the market, they took a peek.

Built in 1912, the 4,000-square-foot Arts and Crafts home had five bedrooms—three downstairs and two upstairs. And although it was filthy and neglected, details like five-panel doors and handsome period hardware were still in evidence. Off a central foyer/living room, the smoking parlor contained one of a pair of stained-glass windows in a tulip pattern (the other was MIA), and in the dining room a triple bay contained a larger stained-glass window with a wisterialike motif. "When I walked into the dining room, I didn't need to go any farther. Despite all the grunge, the sun came through the 'wisteria window' and I was hooked," Kara recalls.



The big cover-up
Indeed, every room needed attention. For starters, the wisteria window had been pierced by a bullet sometime in its life. Warped fake-wood paneling hugged nearly every wall. Garish orange paint covered the built-in sideboard, plate rack, and other woodwork in the dining room. A somewhat more acceptable color of paint was flaking off the exterior, and some of the clapboards were rotting beneath it. Neither the electrical nor plumbing had been updated in 40 years. Oddly, the place had acquired two kitchens, back-to-back, with brickwork encasing even the cabinets. More brickwork covered a wall in the living room. "There was a mason living here, and I think he must have had a lot of time on his hands," Kara says.



Unfazed, they snagged the place for $180,000 and began undoing the damage. Seven Dumpsters later, Paula, a marketing analyst and self-taught designer, drew up the plans that would bring the home back to its 1912 glory. "Our goal was to make this house old again," says Kara, a writer. "And the more we worked on it, the more the house revealed." Not that this was always good news.