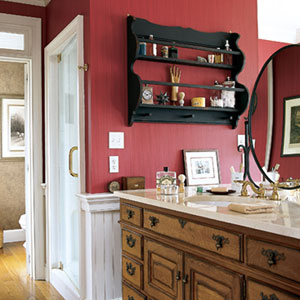 Separate but together" is how Peggy Bradbury described the his-and-hers master bath she and her husband, Bob, wanted for the new wing of their West Chester, Pennsylvania, farmhouse. Though the idea sounded like something of a Zen riddle, architect Barry H. Light was able to give it tangible form.



He translated the homeowners' wish into a gracious, 682-square-foot space the couple could share, but one that also afforded them individual privacy. "Peggy and Bob have very busy, separate lives, but they are crazy about each other. So I used their relationship and their lifestyle as the basis for the design," says Light.



The architect situated the master bath at the back of the house for privacy and installed an oversize bay window to bring in light and a view of the surrounding landscape. He positioned a two-sided vanity roughly in the middle of the room, framing it with a storage cabinet on one end and a shower on the other. Instead of conventional side-by-side sinks, the shared vanity has two sinks across from each other. "The idea," says Light, "is for Peggy and Bob to have private grooming areas and still be able to talk to each other."

This arrangement cleverly divides the bath into his side and her side. Like the vanity, the shower is accessible from both sides of the room via a pair of frameless glass doors. (The only tub, however, is distinctly on Peggy's side.) Separate water closets and dressing closets complete the his-and-hers zoning of the bathroom. Light chose to house separate dressing closets within the bath. "Making two closets spacious enough to serve as dressing rooms lets Peggy and Bob groom and dress without having to go back and forth to the bedroom," says Light.