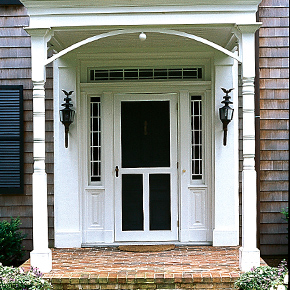 East Hampton, New York, is well known for its starring role in gossip columns and as a summer refuge for the likes of Martha Stewart and Steven Spielberg. But this small hamlet on the eastern end of Long Island also has an exceptional historical legacy that dates back to its founding, more than 350 years ago. Originally a rural town of fishermen and farmers, by the early 20th century it was a burgeoning beach resort for artists and well-heeled city-dwellers alike. Grand seaside retreats appeared behind tall privet hedges, sharing the streetscape with small shingled cottages and clapboard farmhouses. Thanks to the community's preservation efforts and vigilant building codes, much of this distinctive architectural character remains today.





The East Hampton home of Hollis and Jim Forbes is a fine example of how an old house can return to its historic roots despite having been expanded and revised by successive generations of owners. An early black-and-white photograph shows the original 1840 Greek Revival farmhouse with a gracious columned porch across its front. Town records reveal that a century later, in 1940, the house was moved down the road to its current location, and about the same time gained two single-story wings, one for a living room, the other for a family room. By 2000, when the Forbeses first saw the house, it had lost its front porch and gained an attached garage, added in the 1980s.

In spite of the exterior hodgepodge, the interior of the house felt seamless. "We were impressed by the fact that the wide plank floors, the stepped casings crowning the door and window frames, and the six-over-six windows had been faithfully replicated in the newer parts of the house," says Hollis. "And we were charmed by the fact that the original parlor, dining room, and upstairs bedrooms all had working fireplaces." But with just two bedrooms, and a kitchen that had last been updated in the 1950s, the place did present some drawbacks for the couple, who had a young daughter. "We knew when we bought it that we were going to have to add on to suit our family's needs," says Hollis.