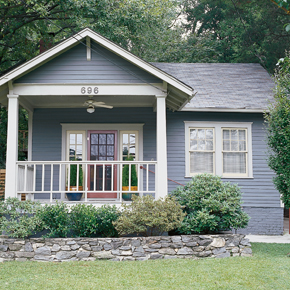 You can easily drive by my house without so much as a second glance. From the street it looks much like all the other bungalows in my Atlanta neighborhood. But the view from the backyard is quite a different story. From there you see a bold, contemporary building with a vibrant red loft. You'd swear it was a totally different house.

That's fine with me. My challenge as an architect and also a first-time homeowner was to marry the traditional bungalow to a contemporary addition. I wanted the house to reveal itself gradually, not the instant you open the front door.

Rough Condition
Challenge is the nice word for what I was facing. Built in the early 1930s, the two-bedroom, one-bath bungalow was a rental past its prime when I first saw it seven years ago. It had old wiring, an aging furnace, a sunroom with rotting walls, and no central air-conditioning, which made it brutal in Georgia summers.

Finished surfaces weren't in any better shape. The exposed original heart-pine floors had been stained a nasty black color, and every room was dingy white, except for the kitchen's depressing orchid-print wallpaper. In fact, nothing in the kitchen was worth saving, from the cheap pickled cabinets to the floor that was 3 inches out of level and covered with ceramic tile that easily came up with my bare hands. But despite all of this, the price was right, and so was the location. So I bought the house, planning to upgrade, add on, and resell in a few years.

Some decisions were no-brainers. I had to rewire, add air-conditioning, and refinish the floors. Beyond that, I wanted to freshen the interior with paint and expand the house. So I gave the traditional bungalow a contemporary 700-square-foot rear addition containing a large master suite and a tree-level loft office. I've always loved tree houses, and I liked the idea of being up high in my own personal sanctuary.