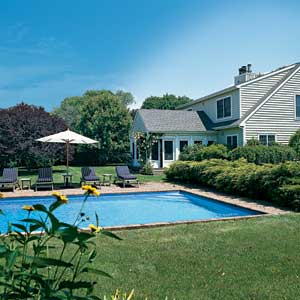 On the border that divides indoor and out sits the screened porch, architecture's easy­going response to the scorching sun, lightning storms, and biting bugs of late summer. Even one afternoon spent in this iconic place leaves you thinking about how to extend its pleasures beyond the sultry months.

A season-spanning porch was just what the owner of this Cape Cod-style cottage had in mind when she approached local building contractor Guy Clermont. She dreamed of creating a bright, airy room where she could relax on warm May evenings and entertain friends on chilly October afternoons. And as a creative director in the fashion industry, she had definite ideas about how she wanted the space to look: handsome mahogany flooring, whitewashed walls with traditional moldings, panel and pilaster details, and a vaulted beadboard ceiling with exposed beams.

She was also sure she'd never be able to bankroll it all at once. "I was convinced that to do it right, I'd have to build the room in stages over a few years. First the deck, then the peaked roof, then the screening. Then later, maybe add windows," she recalls. "Guy suggested a way to make the whole thing affordable at once."

The pro's advice: Go ahead and build the addition you want but, instead of installing curtain screens and windows, use stock wooden storm doors with interchangeable screen and window inserts as stationary porch panels. When temperatures cool, the panels' screens can be lifted out and swapped for divided-light inserts of tempered glass, stretching out the porch season along with the available living space.

"With a three-season room, you don't need to excavate a foundation, install heating or plumbing systems, or insulate the way you do with a year-round addition, so you start saving right there," says Clermont. Employing stock doors as porch panels cuts the budget one step further, eliminating the need for a lot of extra on-site carpentry and custom millwork. "Basically, you put in piers and girders, frame out the roofline, lay the deck, pop in the doors shiplap-style, and do the finish carpentry—which can be as simple or as intricate as you want," says Clermont. The idea is not original, the builder emphasizes, but it's one that makes a lot of sense. "Think about it: I could charge you to build custom-fitted porch screens on-site, or I could measure out the framework to accommodate standard-size wood doors and cut down my labor costs by about a third."