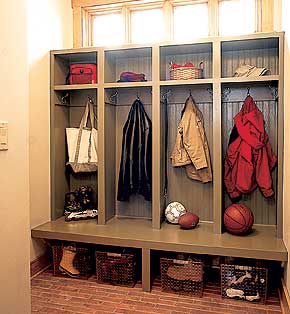 It's become a familiar story: Couple buys old house intending to renovate, couple is blown away by cost and limitations of a redo, couple razes home and starts over. Enter chorus of upset neighbors, unrelenting town building commissioners, and contractors gunning to build big.

But a teardown doesn't have to play out that way. When Doug and Dana Reese relocated from San Diego to Chicago, they fell hard for a charming suburb only 23 miles west of the city. Glen Ellyn, Illinois, had everything they were looking for: an old-fashioned Main Street with a movie theater they could walk to, an atmospheric mix of older homes, and a good school system.

So when they settled on a small 1953 Cape Cod on a tree-lined street, their plan was to remodel while keeping the home's traditional feeling. They knew they faced some hurdles: The damp basement had a mold problem, the tuck-under one-car garage was impractical for a two-car family, and there was no space in the cramped 1,300-square-foot interior for Dana to display her collectibles.

"Everyone said we'd have to take the top off and build back," says Doug, of the extensive (and expensive) work that would be required to fit more living space on the narrow, 50-by-150-foot lot. They also didn't want to lose the character of an old house, especially the way that the exterior blended into their mature neighborhood of traditional-style homes, mostly built in the 1930s and 1940s.