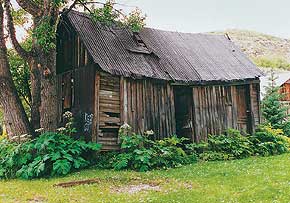 One funky, slice-of-pie-shaped piece of town property would induce head-scratching in any architect. Two rusted-out, bullet-hole-riddled coal sheds that the local preservation board says must stay. Dozens of town ordinances regulating setbacks from the road, a nearby creek, and an alley, as well as the dimensions of every window and door.

Sound like the makings of a dream house-building project?

It was just that for one dogged couple, who devoted three years of their lives to transforming a long passed-over parcel into a historically sensitive homestead.

Elizabeth LeCoq Currier and her husband, Joe, knew that perfect building lots weren't easy to come by in Created Butte, Colorado. What was once considered the poor coal-harvesting cousin to the area's former silver mining towns of Aspen and Telluride had remained rich in Western history and architectural artifacts—and the preservation folks wanted to keep it that way. Which, for prospective homebuilders, means there's no removing what's left of those 19th-century tin—roofed, wood plank-sided coal sheds that dot potential lots.

But that wasnt a negative for the Curriers. The native Colorado interior designer and the former logger/ski instructor appreciated Crested Butte's mining past. "I know a lot of people would have looked at that property and just seen eyesores, " says Liz. "But I stood in the middle of the lot, closed my eyes, and imagined a house coming up around me." Once the Curriers bought the cottonwood tree-lined parcel, it would take two years of phoning in to Crested Butte's Thursday-night planning-board meetings from their home in San Francisco to get their plans approved, and another year to build.