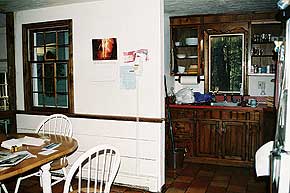 If there is a home-buyer's heaven, it must be lined with houses that are already renovated to suit a person's tastes and needs—so no one would ever have to live with a previous owner's mistakes. But back to reality—and this 1970's Cape Cod-style house, purchased 15 years ago by a ballet-school directo rand her dentist husband. On the plus side, it had a perfect location for the couple and their children: sited on two wooded acres on a quiet lane, in a small town near Boston. With three bedrooms upstairs and a large family room, the house offered a more than adequate 2,800 square feet of space. Unfortunately, a good portion of that came from a poorly built family-room addtion that formed an ell between the house and the garage and was just begging to be redeemed.



At First, Making Do
"We hated this house in the beginning," recalls the couple. "It was brown inside and out, and felt incredibly dark." The Cape's typical small rooms and deeply pitched roof didn't let in a lot of light and the family room's stucco walls and painted plywood ceiling gave it a slapped-together feeling. Worse, the room always felt and smelled damp, because its carpeting had been laid right over the concrete slab floor.



The couple took some interim measures, whitewashing the predominantly brown family room and coating the dark brown exterior with light gray paint. All the while, they kept dreaming of a different house: light, bright, and airy. After getting to know architect Lynn Hopkins, who brought her young children to the homeowner's dance school, the couple started to believe that their dark Cape could be turned into the house they envisioned. "The design process evolved over several years, " says Hopkins, who is based in Lexington, Massachusetts. Top requirements for the renovation: bring in more natural light, create a better traffic flow, enlarge and update the kitchen, and solve the family room's moisture problems.