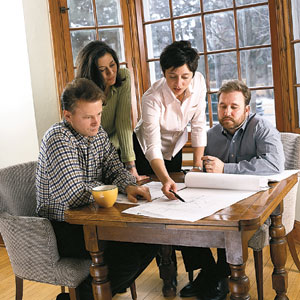 In a household with growing kids, spending time in the kitchen is all too often a squeeze play. Mom and Dad are colliding with hot baked goods in hand, there's never enough room to sit down, and nobody can open a cupboard door without a box toppling out. That's what finally prompted architect Charles Cook and his wife, Tricia, to remodel the kitchen in their 1920s?Wilmette, Illinois, bungalow. They knew just what they needed: a microwave low enough for their three boys—aged 5, 10, and 13—to reach, a designated area for Tricia to do the baking she enjoys, food-prep counters at different heights (Charles is 6 foot 4; Tricia, 5 foot 4), and a big, storage-packed island where the kids could have a snack or guests could hang out when the couple entertains.

Since the existing kitchen flowed into a larger eating area, Charles's first move was to flip-flop them to take advantage of the bigger space for cabinetry and appliances. Then he widened the footprint by borrowing from an adjacent family room, which was being added on to. He organized work zones by function—a baking center next to the range, for instance, and a sandwich-making area next to the fridge. Where possible, the cherry cabinets were put together in floor-to-ceiling groupings that minimize long runs of countertop and give a more polished, furniturelike look.

"When you design houses for a living, you know how to build in every little thing you've ever wanted," says Charles. "This kitchen's got something—and plenty of room—for everybody."