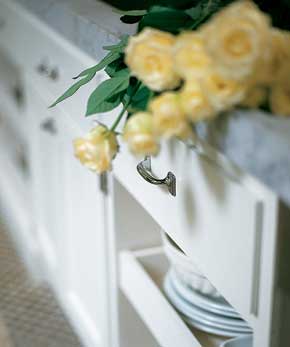 Grinning like a lottery winner, This Old House producer Bruce Irving spreads his arms to embrace the 1,075-square-foot chapel-cum-living room of the TV show's winter project house in San Francisco. Television producers are professional worriers so, when one smiles, the heart gladdens. "In all the years we've done this," he says, his praise reverberating in the expanse, "this is the coolest, hippest project."



Yet Irving and the rest of the T.O.H. crew did plenty of brow-knitting during the conversion of this turn-of-the-century church into a young couple's residence. The massively scaled design elements that home owner and designer Mark Dvorak specified seemed likely to be too bold for a house. As laborers schlepped in one and a half tons of marble wainscoting, 1/2-pound cabinet hinges, a stove that resembles an ore smelter and Clydesdale-size stable doors for the entry, T.O.H. plumbing and heating contractor Richard Trethewey fretted along with the rest of the crew: "I thought the place would end up looking like Grand Central station."

Now that each item has been plumbed, nailed, glued, bolted or hung, it's clear that Dvorak—working closely with architect Barbara Chambers—brought inspiring vision to this remodeling project. His secret: setting the institutional elements against a minimalist canvas of pristine white walls and streamlined trim. "I had my doubts at first, but it's a fabulous space," says T.O.H. host Steve Thomas. "Now, finally, I get it."