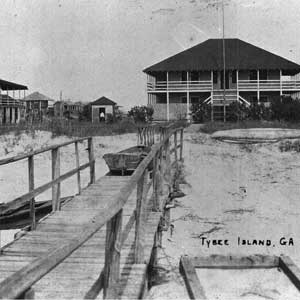 The Wilson family's Tybee Island beach house leans. Just a little. To the right. A souvenir, say some, of the hurricane of 1947, one of the few to ever hit this Georgia barrier isle, which lies about 20 miles from Savannah.

Back then, the island took a beating, but many of the turn-of-the-century raised ­cottages on Colony Row, like the Wilson place, remained. Built to last, the two-story beach houses were constructed of heart pine, on piers 2 feet up from their foundations to sit above storm surges and to maximize ocean breezes and sunset views. Nothing fancy, these spacious summer retreats were little more than pine planks nailed to framing, with no insulation, and painted white to deflect the heat of the sun. Their construc­tion followed the railroad out onto the island, which helped make Tybee one of the most popular summer resorts in the Southeast. Summering there became a tradition for Savannah families, and many cottages are still passed from one generation to the next.

Today, the biggest threat to these historic summer homes is not so much what ­Mother Nature might dish out but the checkbooks of greedy developers. Where real estate is prime, the desire to knock down, rebuild, and multiply is intense. Which is why, on Tybee, every time a home falls into the hands of preservation-minded homeowners like the Wilsons, it's an occasion worthy of a crab boil.