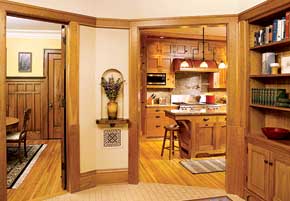 Even when a great old house manages to survive the decades intact, the kitchen rarely makes it through unscathed. Family demands on the space mean it's usually the first room to get "modernized," often with mixed results. After all, what seemed like a groovy kitchen remodel in, say, 1975, might not look so hot in 2006.

In Richard and Gail Rapson's 1904 Minneapolis foursquare, walking from the dining room into the kitchen was sort of like emerging from the wood-paneled library of an Ivy League college and stumbling into the neighborhood medical clinic. While most of the home's rooms were lined with original wainscoting and millwork in burnished oak or warm mahogany, the sterile white kitchen's most notable feature was Jimmy Carter—era laminate cabinetry. It wasn't the kind of kitchen in which the family of four could do any sort of kitchen-table bonding, either, since its eating area was shoehorned into a converted butler's pantry, and a space-hogging island made navigating the 13-by-15 room awkward, treacherous even. "We were always slamming into each other," says Gail.

After years of ignoring the room's cramped confines and incongruity, the Rapsons finally decided to give the house the kitchen it deserved. They envisioned cabinetry on a par with the millwork found in the rest of the house, as well as some 21st-century luxuries, including granite countertops, a built-in recycling center, pro-grade appliances, and recessed lighting—with minimal alterations to the room's footprint. They also wanted to add some adjoining spaces: a separate, kid-friendly breakfast room with a workstation where their two children, 8 and 12, could do homework, play computer games, and stay out of their parents' way while they prepared meals. And to keep the house free of tracked-in grime, they planned a storage-packed mudroom, where the fam­ily could deposit snowy coats and sopping-wet boots. "Every house in Minnesota needs a mudroom," says Gail.