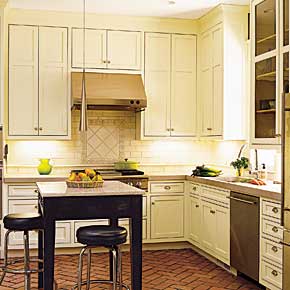 "What have I gotten myself into", the question just kept running through my head. It was May, six months since I'd bought the almost century-old bungalow, and here I was camping out in my half-done home, showering in a stall with no door, mopping up after each washing, and wondering when I might actually be able to cook a meal in my still counterless and ovenless kitchen.

I had dreamed of living in the area—Virginia Highland—since I moved to Atlanta 25 years ago, but the neighborhood had always been out of my price range. Then a local turned me on to a 1910 Craftsman that he thought had my name written all over it. It was a total wreck, which fortunately was reflected in the price.

When I went to see the house, I was immediately taken by its old diamond-paned windows and original heart-pine floors. There were no bad additions, and its woodwork wasn't buried in layers of paint. I saw the potential to make the two-story house into a showplace and, more importantly, into a home. It was a gem that just needed polishing up.

I knew that renovating the place would take real elbow grease on my part though. The ceilings were caving in, the plaster was crumbling, and several windows were broken. The exterior shingles were mostly rotted, and—as I would later find out—so were the front door and some joists and flooring. A former owner had waited a little too long to fix the roof after a tree fell in on the study, leaving the interior vulnerable to the elements. Water and gas lines had been shut off so long that local utilities had no record of the place. The whole second floor was an unfinished attic, and the 1,800 square feet of living space downstairs included just two bedrooms and one bath—enough space for the pair of squatters apparently living there ­before the place was put up for sale.

Still, it was love at first sight.