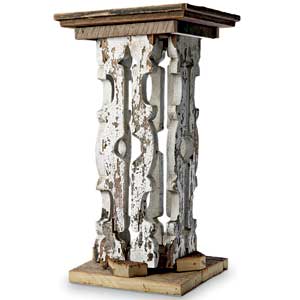 Using scraps of weather-beaten barn wood and balusters, Black Dog Salvage's Mike Whiteside built this rustic pedestal—which makes a great plant stand or small side table—with materials you can find at most salvage yards for less than $50.

1. Take four matching balusters and nail them at top and bottom along the sides of square end blocks to create a freestanding box.

2. Center the bottom of the baluster box on a wider square base and nail it in place. For added support, attach wooden stops to the outside faces of the balusters.

3. Make a decorative, stepped capital for the top by gluing together two square boards, one slightly smaller than the other. With the wider board on top, crown the baluster box with the capital.

4. Finish off the pedestal by wrapping the top edges of the balusters with 1/2-inch wood strips nailed just beneath the capital.