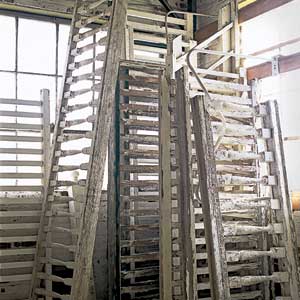 The Italians have their loggias; the French, their galleries; and the Spanish, they sip their sangria in corredors. But here in the United States we have ­porches, plain and simple. And aside from the requisite roof and floor, the quintessential American porch is defined by its railing—a wood one, to be exact.

Originally carved by hand, early railings were built more for safety than decoration. Installed on the raised porch of an 1830s Greek Revival, for example, the vertical planklike balusters practically receded from view be­tween far grander columned supports.

By the 1880s, the American Industrial Revolution brought mass production of machine-cut porch parts in more complex designs. Steam-powered scroll saws made it easy for woodworkers to pierce flat wood panels with curved qua­trefoil and sharp-angled diamond patterns. Among the most ornamental were the railings on Queen Annes. Com­mon were Chinese Chippendale lattice patterns reflecting an American attrac­tion to all things from the exotic Far East, as well as delicate spindlework inspired by the designs of Charles Eastlake, an in­fluential English furniture maker.

In this late Victorian period, even simple saltboxes and vernacular farmhouses were updated with entire porch packages sold through mail-order catalogs. The 1902 Universal Design Book shows 25 stock baluster patterns priced between 14 and 32 cents a piece, de­pend­ing on size, detail, and whether it was sawn or turned on a lathe.