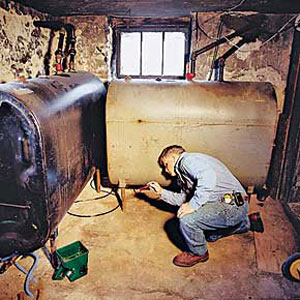 5. ALL SYSTEMS GO
If you haven't already done it, schedule your annual furnace maintenance—long before the first cold day. But you can be proactive by changing filters on schedule and keeping an eye out for leaks around the furnace or water tank.
One of the most overlooked hazards in a house is the electrical system, so take note of loose outlet covers and receptacle boxes, which might fray wiring. Look for scorch marks in the breaker box and around plugs, a sign of dangerous arcing. Plug a lamp into GFCI receptacles and push their test and reset buttons to see if the light goes off and on. Then put fresh batteries in all the smoke and carbon monoxide detectors.
In the end, all this careful examination may leave you with a long repair list—and a roster of pros to call. But better that they come to take care of the little things before the problems become more costly and dangerous. "When you get right down to it, inspecting your house is an ounce of prevention," says Tom. "Trouble is, sometimes by the time I get the call, it takes a pound of cure."
Getting Professional Help
Professional home inspections aren't just for buyers. As house systems become more complicated, homeowners are turning to inspectors for ongoing advice. ASHI president Joe Corsetto says it can't hurt to get an inspection every five years, or before tackling major renovations: "The inspector will analyze all the systems and help prioritize repairs. That way you're getting a complete and unbiased picture from someone who's not trying to sell you anything."
Not all states license home inspectors, and standards vary widely. A safe bet is locating an inspector certified by
ASHI
. Expect to pay anywhere from $350 to $850, depending on where you live and the size of the house. Corsetto says a thorough inspection should take two or more hours and result in a written report, preferably with digital photos. The inspector should go anywhere a human can fit, including out-of-the-way crawl spaces. Besides a good flashlight, he should carry a moisture meter (to assess wood rot), an amp probe, long-handled mirrors, and a combustible gas detector to catch dangerous leaks.
Bonus Checklist
Click for a free
Item-by-item inspection checklist
, telling you places to look, sounds to listen for, and tests to run when getting your house ready for its annual maintenance.